A GOOD SPINDLE LIVES FOREVER
Bet on professional longevity
Every one of our motor spindles is designed for a long life — whether for the machine tool market, test bed construction, glass processing, wood processing or production of optical glass.
Our components are made of surface-hardened materials and with extreme precision. This is how we ensure that our spindles have optimal durability even after wear parts have been changed several times.
Our competence starts with your individual requirements: What forces arise during machining? Which spindle will be used for which material at what RPM?
Based on your specific requirements, we develop a custom-made spindle or adapt an existing spindle design to your production.
Metallic and electro- technical components (drives), tool clamping systems and cooling systems
From 10 KW to 30 KW drive output
Tool interfaces to HSK 100 or SK 50
Custom solutions
Motor milling spindle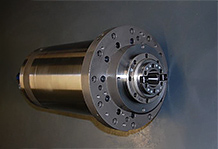 Article-no.:
MFS-03-3.1.2.4-0 or
MFS-03-3.2.10.4-0
Motor:
AC 180/220/4
Nmax.
12.000/ 410 Hz
Voltage:
400 V / 50 A
Power:
S1 / 33 kW / 110 Nm
Motor grinding spindle
| | |
| --- | --- |
| Article-no.: | MSS-01-2.2.9.2-0 |
| Motor: | MKL-1600-06-001-064 |
| Nmax. | 10.000/ 511 Hz |
| Voltage: | 370 V / 37 A |
| Power: | S1 / 20 kW / 27 Nm |
Motor grinding spindle
| | |
| --- | --- |
| Article-no.: | MSS-02-2.2.9.0-0 |
| Motor: | MKL-1700-06-001-064 |
| Nmax. | 10.000 / 500 Hz |
| Voltage: | 350 V / 19,3 A |
| Power: | S1 / 13,5 kW / 9 Nm |
Motor grinding spindle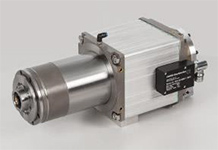 | | |
| --- | --- |
| Article-no.: | MSS-04-2.2.9.0-0 |
| Motor: | MKL-1600-04-002-064 |
| Nmax. | 18.500/ 617 Hz |
| Voltage: | 400 V / 32 A |
| Power: | S1 / 26 kW / 15,2 Nm |
Workpiece drive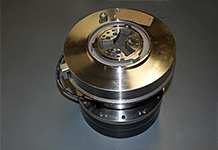 | | |
| --- | --- |
| Article-no.: | WSA-05-5.0.0.0-0 |
| Motor: | MSP-1900-22-002-266 |
| Nmax. | 400 |
| Voltage: | 200 V / 0,57 A |
| Power: | S1 / 20 Nm |